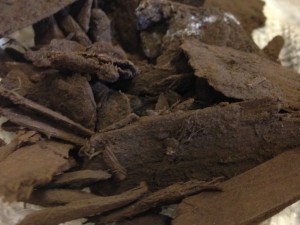 MV Technologies has implemented certain modifications into the well known iron sponge system to achieve a longer operating life and a reduced operating cost.
MV modifies commercially available iron sponge and markets it as B.A.M. (bio-active media). MV purchases standard grade iron sponge product from a commodity supplier, and enhances that material with biological agents to produce a more reactive and effective media. The iron hydroxide in the B.A.M., neutralizes the H
2
S by converting it into iron sulfide compounds through chemical reaction, and the bacteria serve to "refresh" the available reactant. MV's addition of biological agents to media result in removal of numerous non-sulfur bearing species such as VOC's and readily biodegradable organic compounds, and improved re-oxidation of the iron sulfide compounds to regenerate iron oxides for subsequent reactions. All of this adds up to extended life of the reactive media and lower cost of operation.
After the iron sponge is totally reacted, the spent media is non-hazardous and can be disposed into a solid waste disposal facility or alternately into a compost operation for the treatment of any oily soils, or even applied as a fertilizer.
The spent iron sponge is non-hazardous and has 100+ years safe-operating history; however, handling requirements should be reviewed prior to composting or disposal, as the media must be kept moist to avoid any airborne dust conditions.
Although iron sponge has been successfully used to remove H
2
S from gas streams for over a century, it is the engineered process of the H2SPlus Systems and operating technique that ensures safety, media life and ease of media removal.